Designer Delivers Plans for the New Church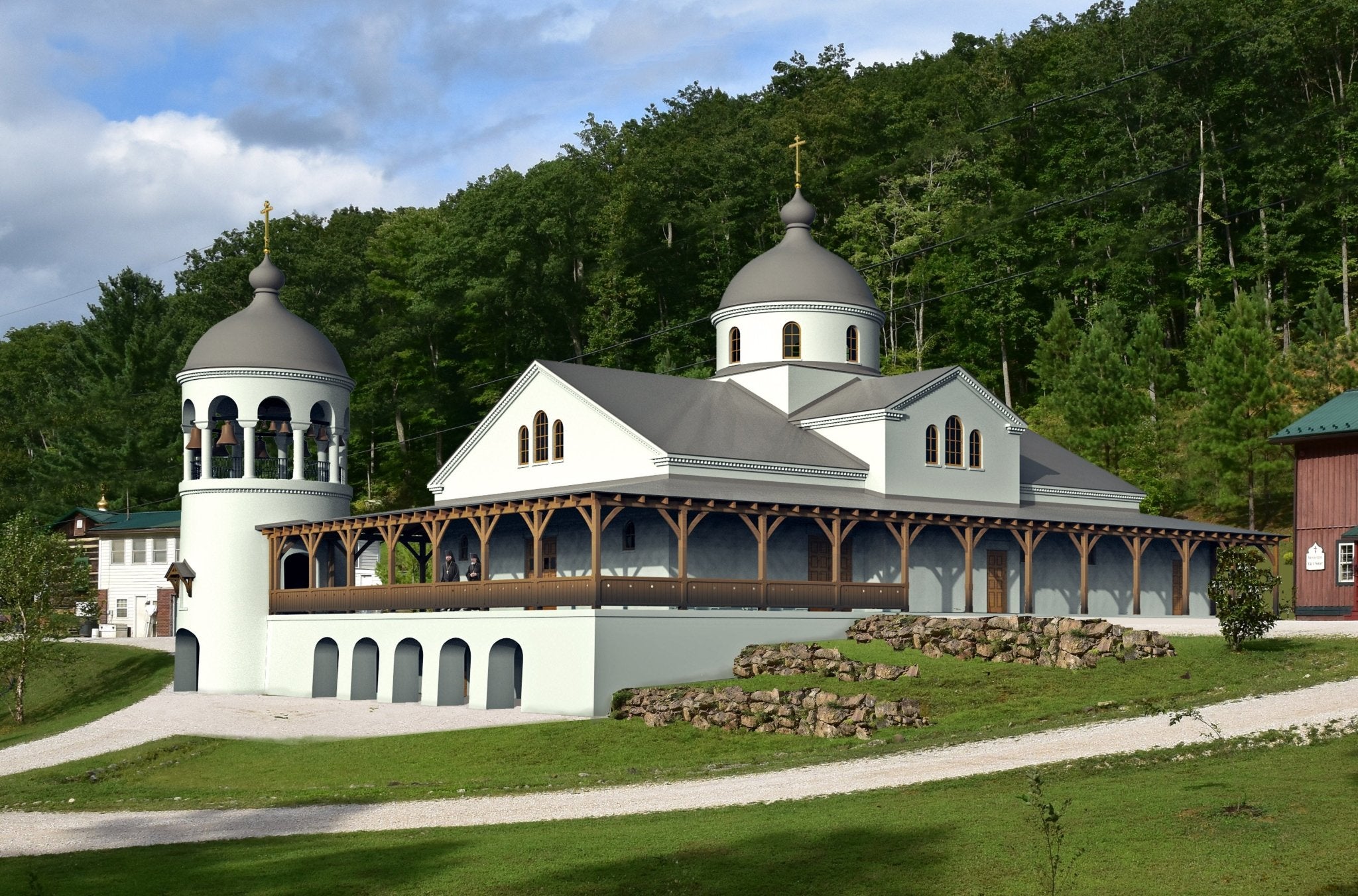 On Friday, September 27, our designer delivered to us his proposed plans for the new church. The new buikding is 92' x 48' internally, with a large covered wraparound porch bringing the total dimensions to approximately 110' x 70'. We estimate that the new church will comfortably fit numerous serving clergy and servers in the altar, 50 monastics in the stasidia, 150 faithful in the nave, an additional 50 faithful in the loft. There is also ample space in the covered porch (with the church doors open) in cases of very high attendance.
In short, this new church will be able to adequately and comfortably fit not only our current brotherhood, but also a substantially larger one should God bless such a future for us. We will also be able to host even large pilgrimage events in our own catholicon.
The sacristy space is enormously augmented compared to our current situation, which will allow the servers to perform their obediences without disturbing the prayer of the serving clergy. This will allow for increased reverence and prayerfulness during the divine services, not only for the clergy but also for the faithful for whom they pray.
As previously announced, the new church includes a basement area. This will provide the potential for crypts underneath the altar, additional sacristy space, as well as a large auditorium for lectures, spiritual talks, and monastic synaxes. Our existing community room is barely big enough to fit our current brotherhood, and a larger space is undoubtedly needed should our brotherhood continue to expand. An auditorium will also allow us to be able to offer edifying spiritual talks and events to pilgrims and visitors as well as the brotherhood.
Finally and most importantly, this new church is extremely beautiful, reverent, and traditional, while at the same time fully integrated with our natural surroundings. It will look quite at home in our West Virginia holler. This is no small feat for a traditional Russian Orthodox monastic catholicon, and is a testament to the inspiration and talent of our designer, Andrew Gould.
Moving forward, we intend to complete our infrastructural preparations by the end of the year, and over the winter we will work on finalizing the blueprints and construction portfolio in general. We will continue our fundraising efforts, with the intention of breaking ground as soon as weather permits in the spring.
View Full Resolution Renderings»
Please continue to pray for the good success of this necessary and God-pleasing effort, and consider contributing financially if you are able to do so. For your convenience, we have now added the ability to pledge a recurring donation on a monthly, quarterly, or annual basis. Thank you, and may God reward you!
---
2 comments
---
---