Sermon for the 12th Sunday after Pentecost (2015)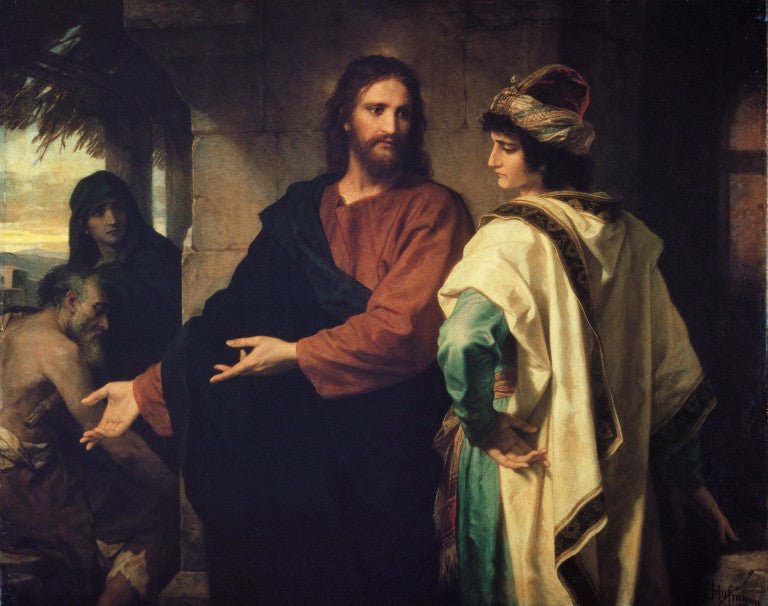 In today's Gospel reading we hear a story that many of us are familiar with, the story in which a young man who had much wealth approached Christ and asked Him what he must do to inherit eternal life. St. John Chrysostom notes that this man was sincere and was not trying to trick Christ by his question or else he would not have left sorrowing. Christ answered the young man's question saying, "keep the commandments." The young man, after saying he has kept all the commandments from his youth until now, inquired further, because, as St. John writes, he "supposes that there are some other commandments besides the law which should procure him eternal life."[1] Christ told him that if he would give up all of his riches he could be perfect. Upon hearing this, he walked away sorrowful because of the grip that the love of possessions had on his soul.
The life of Elder Zosima is a similar story which we read of in the life of St. Mary of Egypt. They are similar in that both the elder and the young man are looking to strive further into the Kingdom of God. Elder Zosima struggled with the thought that he was perfect in everything and that there was no man who surpassed him. These two men desire greater communion with God but, as we shall see, they come with two different dispositions which leads to two different outcomes.
We may recall that the Elder was handed over to a monastery as soon as he was taken from his mother's breast and remained there until the age of fifty-three. We are then told:
…he began to be tormented with the thought that he was perfect in everything and needed no instruction from anyone, saying to himself mentally, "Is there a monk on earth who can be of use to me and show me a kind of asceticism that I have not accomplished? Is there a man to be found in the desert who has surpassed me?"[2]
When he meets St. Mary, Elder Zosima realizes that he has not attained perfection and is ashamed and fearful before the holiness of St. Mary. But he does not turn away sorrowful but instead he is humbled and perseveres.
In the case of the rich young man, Christ tells him how to obtain perfection but he leaves and is sorrowful due to his attachment to wealth.
Another important point in this story that shouldn't be missed is how Christ loved the rich young man despite his love of money.
Let us note how Christ responds to this young man and how much Christ loves him. He does not only say "go and sell [what] thou hast, and give to the poor" but includes the "prize" as St. John  says, the prize of first, being perfect and second, which speaks exactly to this young man's passion, "Thou shalt have treasure in heaven." Continuing, St. John says,
For since his discourse was of money, even of all did [Christ] advise him to strip himself, showing that he loses not what he hath, but adds to his possessions, [Christ] gave him more than He required him to give up; and not only more, but also as much greater as Heaven is greater than earth, and yet more so… But He called it a treasure, showing the plenteousness of the recompense, its permanency, its security, so far as it was possible by human similitudes to intimate it to the hearer.[3]
Now let us look at the Epistle reading for today we see the humility of the Apostle Paul interspersed with the evidence of his natural gifts and his supernatural gifts.
His humility is demonstrated throughout this passage.
Then last of all [Christ] was seen by me also, as by one born out of due time. For I am the least of the apostles, who am not worthy to be called an apostle, because I persecuted the church of God. But by the grace of God I am what I am, and His grace toward me was not in vain; but I labored more abundantly than they all, yet not I, but the grace of God which was with me.
Abba Dorotheos teaches that there are only two kinds of humility both of which are exemplified by the Apostle in this passage. He writes: "The first kind of humility is to consider one's brother to be wiser than oneself and to surpass one in all things." We see this in the above passage when the Apostle Paul writes, "For I am the least of the apostles, who am not worthy to be called an apostle". The second kind of humility is to attribute our achievements to God and this the Apostles does saying, "Yet not I, but the grace of God which was with me".[4]
What is it that humility does? It is twofold: no virtue can be attained without it and all of the temptations of the enemy are destroyed by it.[5] For the more mature, it also protects the gifts that they have been given. As St. John Climacus says, "Many have received salvation without the prophecies and revelations, without signs and wonders; but without humility no one will enter the marriage chamber, because humility is the guardian of these gifts and without [humility, the gifts] will bring frivolous people to ruin."[6]
Saint Silouan speaks of his own realization that without humility the grace of God is not secured in the soul:
Thou hast hid Thyself from me that my soul learn humility, for without humility grace is not preserved in the soul, and weariness and despair oppress the soul. But when the soul has learned humility, neither despair nor affliction can approach…[7]
St. Gregory of Sinai says that those who try to speak about humility are like those who try to measure a bottomless pit.[8] So please forgive my boldness in speaking of something that I do not know but have only read about. May God help us to acquire humility so that when we recognize our low spiritual stature it does not cause us to despair but to persevere.
Through the prayers of our holy Fathers, Lord Jesus Christ, Son of God, have mercy on me a sinner. Amen.
—
[1] St. John Chrysostom, Homily LXIII in "Chrysostom: Homilies on the Gospel of Saint Matthew", ed. Philip Schaff in Nicene and Post-Nicene Fathers, First Series (Peabody: Hendrickson Publishers, 1999) 10:387ff.
[2] See The Life of Our Venerable Mother Mary of Egypt athttp://stmaryofegypt.org/files/library/life.htm, accessed on 8/21/2015
[3] Chrysostom, 388f.
[4] Scouteris, Constantine (trans.)  Abba Dorotheos: Practical Teaching on the Christian Life (Athens: Greek Advertising Company, 2000) Lesson 2 – On Humility, 93.
[5] Ibid., 89-90.
[6] Saint John Climacus, The Ladder of Divine Ascent, revised ed. (Boston: Holy Transfiguration Monastery, 2012), 187
[7] (Sakharov), Archimandrite Sophrony, St. Silouan the Athonite. (Crestwood: St. Vladimir's Seminary Press, 1991), 309.
[8] St. Gregory of Sinai, On Commandments and Doctrines in "The Philokalia", vol. 4, trans. Palmer, Sherrard and Ware (London: Faber and Faber, 1995), 238.
---