Sermon for the Sunday of the Myrrh-Bearers (2019)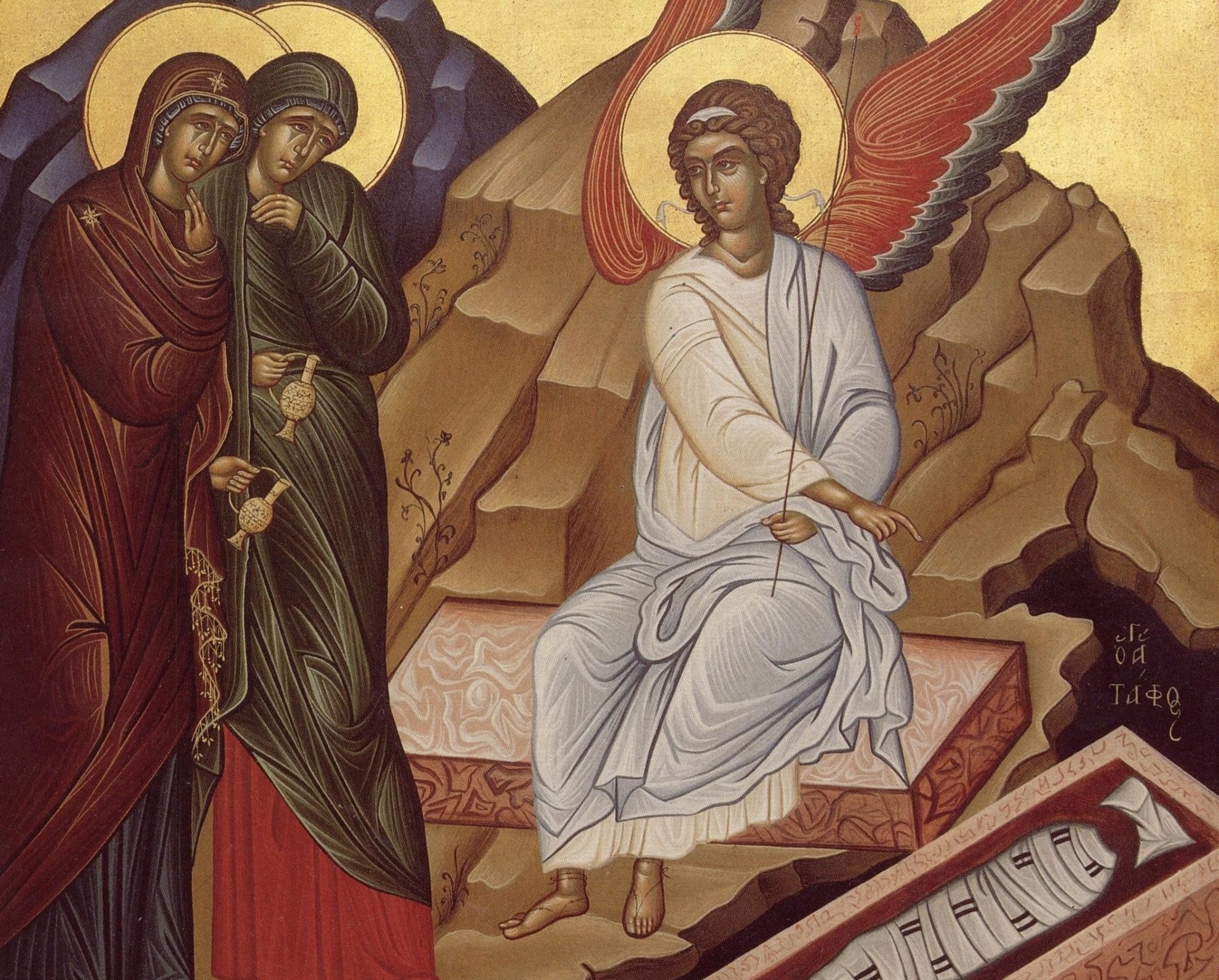 Faith, Fear, and Seeing Christ
A Homily on the Sunday of the Myrrh-bearers
(whereon is also commemorated the righteous Joseph of Arimathea and Nicodemus)
In the name of the Father, and of the Son, and of the Holy Spirit. Amen.
Christ is Risen!
Introduction
Today is the Second Sunday of Pascha on which we commemorate the myrrh-bearing women as well as Sts. Joseph of Arimathea and Nicodemus. In looking at their lives, we do not see them comparable to the Apostles who lived with Jesus for three years, witnessed His miracles, and listened to His teaching. Nor is their life similar to the Apostle Paul who would come later and would be taught by the Lord through Divine visions. Instead, the myrrh-bearers were women, second-class citizens who are denied the benefits of social, political, and economic equality. Joseph and Nicodemus were both secret disciples of Christ and had never previously publicly revealed their commitment to Him or their willingness to sacrifice their reputations or their life for Him.
Today, we honor these people who were involved in the events of the crucifixion and resurrection of Christ.
The Myrrh-bearing Women, Joseph of Arimathea, and Nicodemus
It is written that as Christ was on the cross, there were many women who looked on (Matt. 27:55, cf. Luke 23:49). The Apostle Matthew tells us that among these women were Mary Magdalene, Mary, the mother of James and Joses, and also the mother of the sons of Zebedee, who is Salome (Mark 15:40). Though these are the only ones named at this time, both evangelists say that these women were among the many that were present choosing only to single out these women. Tradition tells us that this group also included Lazarus' sisters, Mary and Martha as well as Mary, the wife of Cleopas, and Susanna. This group of myrrh-bearing women, as we call them, supported and cared for Christ during His ministry.
Joseph of Arimathea was a man of wealth and a member of the Sanhedrin but an "honorable counselor," as the evangelist Mark writes, who awaited the Kingdom of God (Mark 15:43). He was secretly a disciple of Christ because he feared the Jews (John 19:38). Luke tells us that Joseph was a just and good man and did not consent to the counsel and deeds of the Sanhedrin (Luke 23:50-51). After Christ's death, Joseph came before Pilate to beg for Christ's body and was permitted to have it. He helped take His body down from the cross, wrapped it in linen, and then buried Him in his own new tomb (Matt. 27:57-60).
Nicodemus was a Pharisee and, like Joseph, also a member of the Sanhedrin. We first hear of him in John's Gospel as the man who comes to Jesus at night (John 3:3, 19:39; cf. 3:1-21) whom Jesus addresses as a "master of Israel" (3:10). Nicodemus is next mentioned when a group of Jews desired to arrest Jesus and they came before the chief priests and Pharisees among whom Nicodemus was present (John 7:45-52). The last time Nicodemus is mentioned is at the death of Christ. He brought a hundred pounds of myrrh and aloes to anoint the body of Christ and, along with Nicodemus, they wound the body in linen (John 19:39-40) and laid it in Joseph's tomb all the while with the myrrh-bearing women beside them (Matt. 27:61; Mark 15:47; Luke 23:55).
The Faithful and the Fearful
What is of note in this narrative is that we are presented with an image of three different servants of Christ.
The myrrh-bearing women, along with the Apostle John whom Christ loved, were at the cross, when everyone else had abandoned Him. They were faithful to the end; they comforted the suffering; they denied themselves to follow Him; they risked their own families and reputation and their own lives during Christ's earthly life, at his death, and now, as we note in this festal season, at His resurrection. They were the ones who were the most faithful to Christ throughout His whole life. That is why we chant for this feast that "their compassionate purpose was pleasing unto God (Matin verses at Glory) and that they are "of the ranks that love" (Troparion at Matins).
The wealthy leaders of the Jews, Joseph and Nicodemus, were fearful of their compatriots and, though they revered Christ, they were only secretly His disciples (John 3:1-21).
The above two are contrasted by the Apostles of Christ who are His closest companions. Even though the chief of the Apostles said, "Thou all men shall be offended because of Thee, yet will I never be offended" (Matt. 26:33), they were not present at His trial, let alone His death. Moreover, Peter even denied that he was one of Christ's disciples when asked.
What may not be so unique about these followers of Christ is that perhaps we are one of them, or in a unique way, sometimes we are one of them the majority of the time but another at a different time. Despite whomever we associate ourselves with, notice that Christ comes to announce the good news of His resurrection. To those who did not desert Christ at any time but watched in agony as their beloved is scourged, suffering, crucified, and dead; it is they to whom it was first announced by the angel that Christ rose and to them whom Christ appeared to show Himself as risen. Great is their reward for their struggle, their patience, their perseverance, their anguish, and toil. But the good news also came even to those who abandoned Him, when the myrrh-bearing women were sent to the Apostles to tell them what they saw. From the faithful to the fearful, the resurrection was proclaimed.
Although it may be desirable to be a myrrh-bearer with their courage and fortitude of character and love despite the risk to themselves yet many times perhaps we are fearful and abandon Christ even after miracles are performed in our lives or an education in the Church or in the university of the wilderness. How easy it is to grow idle, to not be attentive when saying our prayers or praying in the Services, to not strive towards Christ through these works but losing sight of Him and giving into pleasure and selfishness.
Gerondissa Makrina, in her homilies to her nuns, talks about the rewards God gives for even the tiniest struggle in our life which we do for Christ and that God sees and rewards even the smallest of our efforts, even just to stand in church. She says:
For the love of Christ, can't we stand a little in church? It is excused for the sister whose feet hurt; she is in pain, sick, and can't stand. But what about those who are still young? The patience that you practice by standing in your place without unnecessary movement will be counted by God as a struggle, and He will reward you… She says, Let us struggle, saying, 'My Christ, have mercy on me, strengthen me, give me zeal to love and worship You. I am wearing these black clothes for You; give me a little strength to kneel, to speak a few words to You, so You will have mercy on me and grant me a little zeal, a little divine eros in my soul, a little fervour, a little love, because I am so deprived of divine grace.' (Homily 24)
Seeing Christ
Perhaps we think to ourselves, "If only I could see Christ, then I would be more diligent in my prayers, I would be more loving, I would feel strengthened to struggle more in the Christian life. If only I could hold/handle Him who has loved me and died for me." To you, Christ says, "You can."  When Christ was asked, "When did we ever see you a stranger, or see you sick, or see you in prison, or see you hungry, or see you thirsty, or see you naked," And what does Christ say, "When your brother was naked, or in prison, or thirsty, or hungry, then you saw Me." Therefore what did we then do? When we see Christ do we tend to Him? When our brother was frustrated, feeling overwhelmed with work, despondent, discouraged, did we help him? Did we not see Christ? Did we not care? Did we offer a word of encouragement or a hand to help? Did we bear his burden as the Apostle Paul instructs us (Gal. 6:2)?
It was said of Elder Ambrose of Optina in a homily given at his funeral, this part of it being addressed to lay people, that:
When he had become sufficiently strong in the struggle against the carnal man, he gave himself entirely to the service of his neighbor. From morning until night he lived only for the benefit of his neighbor. Never and to no one did he refuse counsel. He treated everyone kindly. Often by evening the sick Elder's tongue was so weary that he was no longer able to speak.
What is more, do we not know that the Holy Mysteries are Christ? Do you want Christ? Here He will be manifested before us; as He said to His disciples on the night He was betrayed: "This is my body, and this is my blood"
Conclusion
If we fear, let us not fear anymore. When we feel weak and prone to complain or to relax the struggle or feel borne down by the light yoke of Christ, let us be brave. Call upon Christ, especially in the darkest of nights, "have mercy on me, strengthen me, give me zeal to love and worship You." Then we will be able to chant the Irmos of Pascha, saying, "Let us arise in the deep dawn and, instead of myrrh, offer praise to the Master; and we shall see Christ, the Sun of Righteousness, Who causeth life to dawn for all" (Irmos of Pascha)
CHRIST IS RISEN!
---