In Your Patience Possess Ye Your Souls: A Homily on Sts. Anthony & Theodosius of the Kiev Caves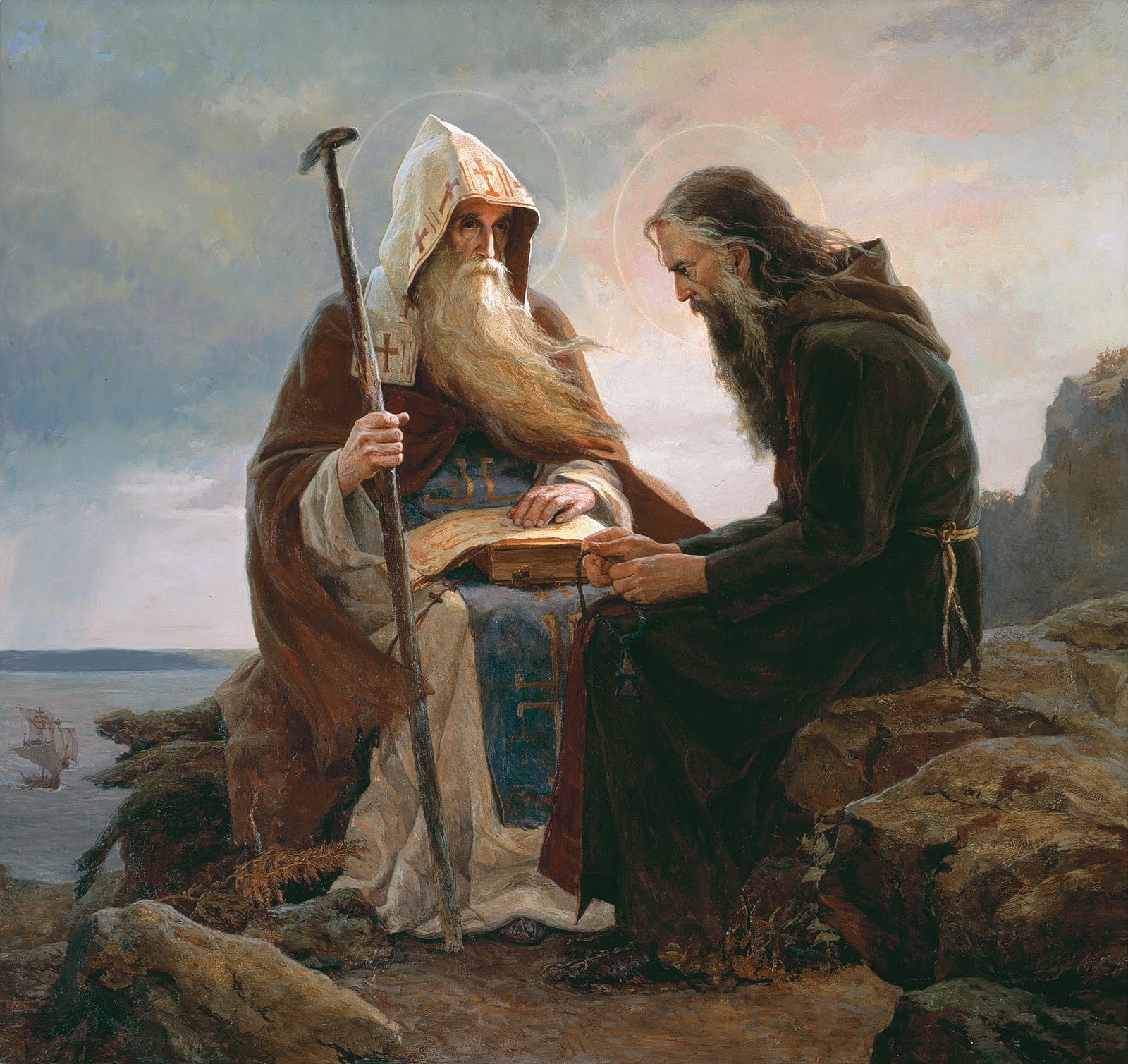 Introduction
With the baptism of Russia in 988, the beginnings of monasticism parallel Russia's Christian history. The Monastery of the Dormition of the Theotokos in Kiev, commonly known as the Kiev Caves Monastery and founded in 1051, is the only monastery to exist after the Mongol invasion of the thirteenth century. Its significance as a monastery is due not only to its longevity but also from the spiritual and intellectual influence it has held in the political and social life of the whole Russian land. Its reputation is amplified all the more when one considers the many bishops which this single monastery produced. 
The founders of The Caves Monastery, as it is commonly called, beginning with Anthony, and its first superior, Theodosius, are commemorated today. The fruit of their labors extends even to our present time when one considers the conflicts which have ensued around the monastery and the land in which it resides.
The Lives of the Sts. Anthony and Theodosius of the Kiev Caves
Anthony
Anthony was born near present-day Chernigov (which is in the Northwest of modern-day Ukraine) in the year 983. Desiring monasticism from his youth, he set off for the holy mountain of Athos where he was tonsured. After progressing in the monastic life, his abbot approached him and said, "Anthony, go back to Rus' so that you may strengthen others there by your success, and may the blessing of the Holy Mountain be with you."[1] He then set off for his homeland, visited monasteries around Kiev, but did not remain in one until he came to a town on the outskirts of the city located on a hillside where there was a cave and here he settled and lived in great austerity.
The ruler of the land, Prince Vladimir, died and his brother Svjatopolk came to power and began to kill off his other brothers, and he also murdered Boris and Gleb. Anthony fled back to the Holy Mountain but returned when Jaroslav defeated Svjatopolk. Upon his arrival in Kiev, he settled in a different cave, lived off bread and water continuing in vigil and prayers and labored in digging his cave.
In time, he became renowned like St. Anthony the Great of Egypt (who lived 700 years before him). Disciples came to him, desiring the monastic life. The first group consisted of twelve aspirants, amongst whom was the future superior, Theodosius. Anthony lived in a cave and the monks lived altogether in another cave and were governed by a superior, appointed by Anthony, who lived with them. As the number of brethren began to expand, they quickly outgrew the cave. They first built a church which was dedicated to the Dormition of the Mother of God, and then they built a monastery on a hill outside of the caves. The former Superior was sent to be the abbot of a neighboring monastery and Theodosius was chosen to be the new superior. Under his guidance, the monastery grew to over a hundred brethren.
Anthony lived in his cave for forty years without ever leaving it. After his repose, his relics were left there, and they worked miracles even up to the time of the composition of the Kiev Caves Patericon, one hundred years later.
Theodosius
From his youth, St. Theodosius was pious not accepting the persuasion of his mother to dress in fine apparel but instead clothed himself with tattered rags and befriending the poor and downcast around him. Several times, he ran off to become a monk but was brought home by his mother, beaten and at times even chained so as not to escape.
One day, while his mother was visiting a friend in a neighboring village, St. Theodosius left with some traveling merchants who were on their way to Kiev. He had heard about the monasteries there as well as about St. Anthony who lived in a cave nearby and the young aspirant desired to submit himself to him. On his arrival, St. Anthony told him, "My son, do you not see that this cave is a wretched place, narrow and confined? As you are still a child, I think, you will not be able to endure the discomfort of this place." To which, St. Theodosius replied, "You see, honored father, that Christ our God, Who cares for all his creatures, whosoever they are, has brought me to your holiness and told me to seek my salvation through you. Therefore, whatever you bid me, I shall do." Afterward, Theodosius was clothed in the monastic garments.
In time, Monk Theodosius was ordained to the priesthood and then became Superior of the brethren of the cave. Under his guidance, the church, dedicated to the Mother of God was built, as well as the monastery. Like all things in the spiritual life, the monastery was not built by wealth but by tears and fasting, prayer and vigil.[2] The typikon used was that of the Studious Monastery in Constantinople which soon came to be used by all the other monasteries which sprung up.[3]
At the end of his days, the Holy One called his disciples to himself several times to counsel them. The last time he was to do this, he said to them,
My brothers and fathers, I promise you that although I depart from you in the body, I shall always be with you in spirit. And whichever of you shall die in this monastery or in any place where he may be sent as superior, I shall answer for him before God, even though he may have committed sins; but whoever leaves this place of his own accord, I shall have nothing to do with him.[4]
Afterward, he dismissed all the brethren, stood on his knees to pray then laid down on his bed, "straightened himself, stretched out his legs, placed his hands on his breast in the form of a cross, and commended his soul into God's hands." It was at sunrise, on May 3, 1074.
On Patient Endurance
What is unique about the final counsel of St. Theodosius is the special grace which was attached to all those who would live out their monastic life in the Caves Monastery unless the superior appointed them elsewhere. In the Paterikonof the Caves, it is evident that St. Theodosius had found favor before God and that this grace became apparent in the lives of those who lived there.
For those who are unable to partake of such abundant grace, we should note that what underlines such extraordinary promises is also available to those who patiently endure to the end (Matt. 24.13). That is why we find in the lives of the saints a patience amidst much trial - St. Seraphim of Sarov received a crippling beating which left him hunched over for the rest of his life. Elder Gabriel of the Seven Lakes Monastery was inadvertently given a drink that instantaneously began to erode his stomach causing him to cough up its lining and ruining his health for the rest of his life. Elder Iakovos, upon settling in at the dilapidated monastery at Evia had to be cautious of the shepherds who then inhabited the place and were trying to kill him.
On Abandonment and Lack of Faith
Was God not present with St. Seraphim? Should he have doubted that God still cared for him? And in a similar circumstance, St. Iakovos knew that the shepherds were trying to kill him yet he did not question God's providence but persevered in the place where he was. Perhaps we think they should have gone somewhere else or at least we would have in a similar circumstance.
St. Isaac the Syrian notes that those whose faith falters in times of hardship, who question God's caring providence for them, should listen to the Prophet-King David who writes: "The eyes of the Lord are upon the righteous," (Ps. 33.15), "The Lord is the strength of them that fear Him,"(Ps. 24.14); "No evils shall come nigh thee, and no scourge shall draw nigh unto thy dwelling"(Ps. 90.10).
"My son," says the wise man Solomon, "if you come to serve the Lord, prepare your soul for trial, set your heart straight, and patiently endure" (Ecclus. 2.1-2). Are we not warned ahead of time to beware, to be attentive, to watch and to be vigilant because the devil seeks to devour us?
God's Purpose in Abandonment
Why does God seem so distant during our trials and suffering? St. Antony the Great asked God the same questions, saying "Where were you? Why didn't you appear in the beginning, so that you could stop my distress?" And a voice came to him: "I was here, Antony, but I waited to watch your struggle. And now, since you persevered and were not defeated, I will be your helper forever…"[5] The Lord tells Antony that He was present, He did not abandon Him although Antony was not aware of His presence. Moreover, God tells him why: in order to see if he would persevere in the struggle or abandon it altogether.
St. Macarius the Great writes saying, "God in His providence allows souls to be tested by various afflictions of this kind, so that it may be revealed which of them truly loves Him. All the patriarchs, prophets, apostles, and martyrs from the beginning of time traversed none other than this narrow road of trial and affliction, and it was by doing this that they fulfilled God's will."[6] It is in this manner that those who are to be called sons of God and imitators of Christ will attain their reward, that is through patient endurance. Those who flee from these trials flee not from them but from God, like Jonah fleeing Nineva, and they will not find consolation but find that it is they who have abandoned God.
Patient endurance
Patient endurance kills the despair that kills the soul, says St. Peter of Damascus. It teaches the soul to take comfort and not grow listless in the face of its many battles and afflictions.[7] He notes that Judas lacked this virtue, and because of his inexperience in spiritual warfare, he suffered a double death. Peter, the chief of the apostles, possessed it, being an experienced warrior; and when he fell, he defeated the devil who had overthrown him. This blessed virtue, he writes, brought the righteous Job and his initial good works to fulfillment; for had he lacked it even slightly, he would have obliterated all the good he had previously done. But God who knew his patience allowed the plague to strike him for his own perfecting and for the benefit of many others.[8] 
We are not Bereft of God
However, we are not Job. Instead, we are weak, frail, displaced, broken, abandoned by the world around us, Christians at the end of time. But so what? So what if we are? It is such people to whom Christ comes, in whom He makes His abode. It is to those whose sins are like scarlet that He will make white as snow. We know this because the lives of the saints attest to it and therefore we have no reason to doubt that God can triumph over our human nature to help us not to despair amidst trials and not to be discouraged amidst sickness. Because of our weakness, it is hard for us to believe, as St. Isaac notes, that "there are men in whom the love of Christ has overpowered the weakness of nature and who totally despise the body and the love thereof, whose mind is not shaken away from its joy in Christ, who have not yielded to being overcome by the violent oppositions from the side of the body, and that divine gifts have triumphed over the impotence of human nature."[9]
This overpowering does not mean that temptations stop, for it is just the opposite, for those who live in virtue, their afflictions will increase.  However, by grace, our will can be strengthened to despise our afflictions and our mind can be established through the joy of the love of Christ, writes St. Isaac.
Who shall separate us from the love of Christ? shall tribulation, or distress, or persecution, or famine, or nakedness, or peril, or sword? As it is written, For thy sake we are killed all the day long; we are accounted as sheep for the slaughter. Nay, in all these things we are more than conquerors through him that loved us. For I am persuaded, that neither death, nor life, nor angels, nor principalities, nor powers, nor things present, nor things to come, Nor height, nor depth, nor any other creature, shall be able to separate us from the love of God, which is in Christ Jesus our Lord. (Rom. 8.35-39)
May we not judge what God is able to do by the feebleness of our own will and our own lack of resolve, but trust that as He has strengthened the saints, so by His grace can we patiently endure the trials in which we are in. As steadfast as St. Seraphim of Sarov, St. Iakovos of Evia, and St. Gabriel of the Seven Lakes Monastery were, so, by the grace of God can we be and in so believing can partially understand why St. Theodosius counsels his brothers to remain in the monastery. In patience, may we possess our souls… and on this day may God strengthen Metropolitan Onouphry of Kiev and All Ukraine and his flock in the Ukranian land.
TROUGH THE PRAYERS OF OUR HOLY FATHERS,
ANTHONY AND THEODOSIUS,
LORD JESUS CHRIST OUR GOD HAVE MERCY ON US.
AMEN.
---
[1]Heppell, Muriel (trans.), The Paterikof the Kievan Caves Monastery. (Harvard University: Cambridge, 1989), 19.
[2]Ibid.,22.
[3]Ibid.,23.
[4]Ibid.,83.
[5]The Life of St. Antony, 39.
[6]"St. Symeon Metaphrastes Paraphrase of the Homilies of St. Makarios of Egypt" in The Philokalia: The Complete Text, G.E.H. Palmer, P. Sherrard, and K.Ware trans, and ed. (London: Faber & Faber, 1984), 342.
[7]Patient Endurance in "Book II: Twenty-four Discourses" in The Philokalia: The Complete Text, G.E.H. Palmer, P. Sherrard, and K.Ware trans, and ed. (London: Faber & Faber, 1984), 222.
[8]Ibid.
[9]Ascetical Homilies, 417.
---