Sermon for the 11th Sunday after Pentecost (2017)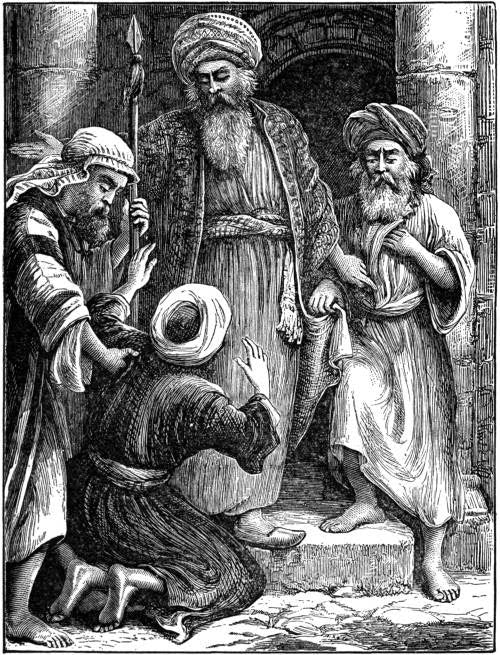 23 Therefore is the kingdom of heaven likened unto a certain king, which would take account of his servants. 24 And when he had begun to reckon, one was brought unto him, which owed him ten thousand talents. 25 But forasmuch as he had not to pay, his lord commanded him to be sold, and his wife, and children, and all that he had, and payment to be made. 26 The servant therefore fell down, and worshipped him, saying, Lord, have patience with me, and I will pay thee all. 27 Then the lord of that servant was moved with compassion, and loosed him, and forgave him the debt. 28 But the same servant went out, and found one of his fellowservants, which owed him an hundred pence: and he laid hands on him, and took him by the throat, saying, Pay me that thou owest. 29 And his fellowservant fell down at his feet, and besought him, saying, Have patience with me, and I will pay thee all. 30 And he would not: but went and cast him into prison, till he should pay the debt. 31 So when his fellowservants saw what was done, they were very sorry, and came and told unto their lord all that was done. 32 Then his lord, after that he had called him, said unto him, O thou wicked servant, I forgave thee all that debt, because thou desiredst me: 33 Shouldest not thou also have had compassion on thy fellowservant, even as I had pity on thee? 34 And his lord was wroth, and delivered him to the tormentors, till he should pay all that was due unto him. 35 So likewise shall my heavenly Father do also unto you, if ye from your hearts forgive not every one his brother their trespasses.
—Matthew 18:23-35 (KJV)
In the name of the Father, and of the Son, and of the Holy Spirit. Amen.
Introduction
Many of us are familiar with the story of the monk who would not forgive his brother and was told by his spiritual father as he prayed the Lord's Prayer, to omit: "forgive us our trespasses as we forgive those who trespass against us," meaning that his sins would not be forgiven if he did not forgive others. This was an application of our Lord's teaching in the Gospel of Matthew by the spiritual father relating to the brothers' prayers and spiritual life. In Matthew chapter six, Christ speaks of the forgiveness of our sins when His disciples ask Him how to pray. In conclusion, the Lord explained, "For if ye forgive men their trespasses, your heavenly Father will also forgive you: But if ye forgive not men their trespasses, neither will your Father forgive your trespasses" (Matthew 6:14-15).
In today's parable, we read not simply of forgiveness but of the immensity of God's forgiveness in contrast with the forgiveness which is asked of us; we are forgiven our 10,000 talent debt and are asked to forgive the 100 pence debt of our neighbor. It is by way of contrast that God's love for us is made known with regards to the love that we are asked to show to others in forgiving them. We should recall this when the opportunity presents itself for us to forgive someone else.
The Immensity of God's Mercy
How great is God's love towards us? We struggle throughout this short life and are granted entrance into the joy of the Lord for eternity upon eternity upon eternity. We who are sinners are enabled to dwell with Him who is perfect. We who are indebted to God are forgiven that outstanding balance which we could not pay and, what's even more, we continuously accrue even more debt!
Where is the comparison between God and man, between the uncreated and the created, between the infinite and the finite? That mountain cannot be climbed. That ocean cannot be sailed. That land cannot be trod. On the Eve of Nativity we chant: "God who holds the whole creation in the hollow of His hand, Who in essence none can touch, Who in the beginning founded the heavens."[1]
Where is the comparison between God's love for man and man's love for God or even man's love for man? It is He who came to redeem mankind who was lost in the darkness of sin, mankind whom He loves. A love that extended even to him who would betray Him, as is noted in the service of the Twelve Gospels when Judas is questioned about why he betrayed Christ:
What reason led thee, Judas, to betray the Saviour? Did He expel thee from the company of the apostles? Did He deprive thee of the gift of healing? When thou wast at supper with the others, did He drive thee from the table? When He washed the others' feet, did He pass thee by? How many are the blessings that thou hast forgotten! Thou are condemned for thine ingratitude, but His measureless longsuffering and great mercy are proclaimed to all.[2]
The Creator of all came to His own creation, about which we chant on Holy Friday, and His own creation received not the God of love:
O My people, what have I done unto thee? Or wherein have I wearied thee? I gave light to thy blind and cleansed the lepers, I raised up the man who lay upon his bed. O My people, what have I done unto thee, and how hast thou repaid Me? Instead of manna thou has given Me gall, instead of water vinegar; instead of loving Me, thou hast nailed Me to the Cross...[3]
"For scarcely for a righteous man will one die," says the Apostle Paul, "yet peradventure for a good man some would even dare to die. But God commendeth his love toward us, in that, while we were yet sinners, Christ died for us" (Romans 5:7-8). Out of this love comes the forgiveness of our sins when we ask for it in repentance, but the stipulation to our forgiveness is this: to have compassion on our neighbor—our father, our mother, our sister, our brother, our enemy, all people—and to forgive him.
Being Offended by Others Can Lead to Virtue
There are many who rest eternally secure in their faith in Christ believing that there is nothing they can do to alter God's forgiveness of them, but in this parable, Christ wrests us from that erroneous notion. There is no more sure way to know that our sins are forgiven than by forgiving those who offend us. Moreover, we can see that our being offended by others can be to our benefit.
St. Peter Damascene, first dispels the thoughts that arise in our mind as to why someone would offend us by saying that at some time we have offended God, or our neighbor, our brother, our father therefore let these thoughts against our offender fall away. Instead, by being aware that we are offended by someone else we are given the opportunity to receive forgiveness because, "indeed, nothing leads more swiftly," he writes, "to the forgiveness of sin than this virtue, [to forgive others]."[4] St. John Chrysostom emphasizes the same when he writes,
Say not then that he insulted thee, and slandered thee, and did unto thee ills beyond number; for the more thou tellest, so much the more dost thou declare him a benefactor. For he hath given thee an opportunity to wash away thy sins; so that the greater the injuries he hath done thee, so much greater is he become to thee a cause of a greater remission of sins.

For if we be willing, no one shall be able to injure us, but even our enemies shall advantage us in the greatest degree.[5]
Conclusion
Alternatively, is it not easier for us to forgive when we are wronged than to be thrown into the fires of Hell? It is not God who condemns us. It is we who are responsible for where we will reside eternally. God does not remove the gift of the Heavenly Kingdom. Instead, we forfeit it by taking revenge, by holding a grudge, by not forgiving. For truly, "For with what judgment ye judge, ye shall be judged: and with what measure ye mete, it shall be measured to you again" (Matt. 7:2).[6]
+Through the prayers of our holy fathers, O Lord Jesus Christ our God, have mercy on us. Amen.
---
[1]
The Verses after the Theotokion at the Ninth Hour.
[2]
"Service of the Twelve Gospels",
Sessional Hymn
at the
Second Gospel
[3]
Stichera of the Sixth Hour at the Royal Hours of Holy Friday.
[4]
"A Treasury of Divine Knowledge" in
The Philokalia
(Boston: Faber & Faber, 1984)3:95.
[5]
St. John Chrysostom, "Homilies on the Gospel of Saint Matthew", ed. Philip Schaff in
Nicene and Post-Nicene Fathers
, First Series. (Peabody: Hendrickson Publishers, 1999) 10:380f.
[6]
Ibid.
379ff.
---