Sermon for the 16th Sunday after Pentecost & St. John the Theologian (2016)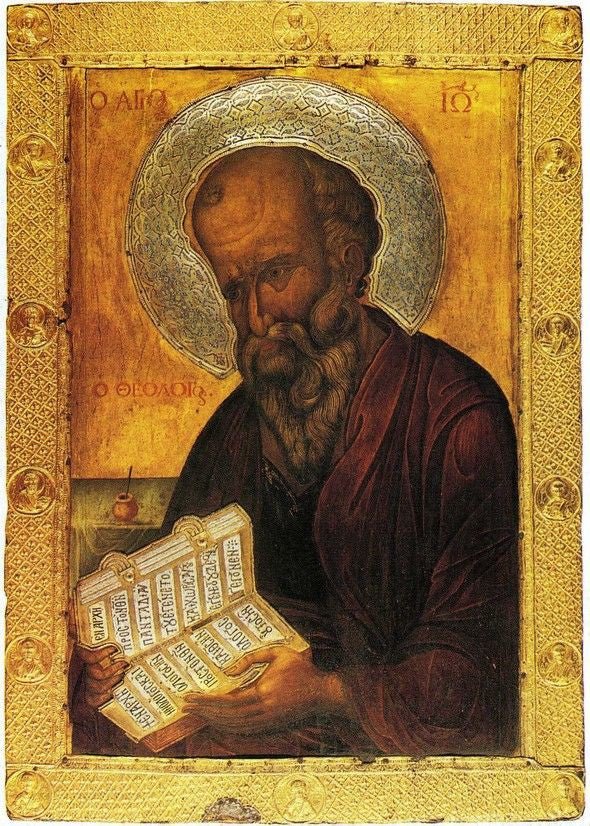 The Lord, when He spoke to His disciples the words recorded in the Gospel reading appointed for this Sunday, was only a few days away from His saving Passion and Resurrection. He had only a few short days left in which to say that which was most needful for their salvation, and for the salvation of those of us who would come to believe through them. And in this one brief passage, our Savior declares to us the great and fearful mystery of our lives as Christians on this earth.
"For the kingdom of heaven is as a man travelling into a far country, who called his own servants, and delivered unto them his goods."
The Lord speaks here a great mystery: He has delivered unto us His goods. But what are these His goods? What is it on this earth that the Lord truly cares for, that He treasures above all else, and that He in His ineffable Providence has given into our sinful and unworthy hands?
In one sense it is true that it is everything around us, all that has been created by God. "The earth is the Lord's and the fullness thereof." We were created to be stewards of creation, and every part of that creation exists as a self-revelation of God which we are called upon to offer back to Him in gratitude and thanksgiving.
But there is a deeper truth here, and a much more fearful mystery even than our royal priesthood over all Creation. We ask again: what is it on this earth that the Lord truly cares for? What is it in this world that alone has true and eternal worth and meaning? The answer can only be: each and every human heart.
It was for men that the Lord came to be incarnate, crucified, and resurrected in glory. It was for men that He spilled His precious blood and endured every shame and revilement at the hands of those whom He came to save. There is nothing in all the world that can even begin to compare in worth to a single human soul in the sight of God. And so when the Lord says that He has committed unto us His goods, there is nothing else that He can mean than that he has committed unto us the immortal souls of our own brothers and sisters.
How fearful is this mystery, and how wondrous is this truth! We begin to see that they are no empty words in which the Church is called the Body of Christ: we ourselves are called upon to participate, not in a mere show but in deadly earnest, in the great and saving work of Christ's salvation. It is through us, the servants of God, that our brothers and sisters are saved. God does not work in a vacuum. None of us are saved on our own. We cannot simply sit back comfortably, putting in the bare minimum of effort that we think our own salvation requires, and expect those around us to be saved. We must not imagine that even our secret sins wound only ourselves. Everything matters. Everything is far more real than we know.
"Our brother is our life." Thus spoke St. Silouan the Athonite in words that echo those of the great saint commemorated today, the Holy Apostle and Evangelist John the Theologian, the Apostle of Love. The Epistles of St. John, as in the passage we have just heard today, are filled to overflowing with this great truth. God is love. And salvation means nothing else than to become gods by grace, which means nothing else than to become all love. And as the Apostle reminds us, how can we expect to become love in any other way than by loving those around us – loving them to the point of death, loving them with precisely and literally the love of Christ?
Let us remember the words of the Lord: "If you love Me, you will keep my commandments." As He said to St. Peter: "If you love Me, feed My sheep." And as the Holy Apostle Paul spoke: "Love is the fulfillment of the law." And as St. Augustine said: "Love, and do as you will."
This is the message of the Gospel. This is the gift that the Son of God came to earth to bring. And if we are faithful to this one great commandment, if we give ourselves entirely and freely to God by loving our brothers and sisters to the point of our own death, then we will hear the sweet and longed-for words of Christ in the Gospel reading today: "Well done, thou good and faithful servant. Enter thou into the joy of thy Lord." And we will experience for ourselves the truth spoken by the Lord: we will find that unto us who have already been given so much, infinitely more has been added in abundance. We will find ourselves united not only to Christ but to the great and glorious company of the saints, in a unity of love increasing and overflowing throughout all eternity. And we will be sure beyond doubt of the truth spoken earlier: that the only things which truly matter in the world are Jesus Christ and each and every person we meet in this life, created in His image and likeness. It is they whom we have been given, it is they who have been entrusted to us, and they are inseparable from the eternity for which we strive. Elder Paisius of Romania used to say: "My children, I do not want paradise without you."
But we have been given a choice. The Holy Fathers teach that the wicked and slothful servant spoke truly when he said that the Lord reaps where He has not sown and gathers where He has not strewn. This is true because God, despite all the grace and mercy which He abundantly bestows upon us, does not implant in us this love and obedience fully formed and ready made. He does not extract it from us by force. It must be offered to Him, and to those created in His image, freely and willingly. And we are perfectly free to bury our love in the earth, in the gross and material things of this life, where it will bear no fruit and wither away and die. Truly, this is a fearful mystery.
But though we ought to fear, we ought not to despair. Though the Lord has departed into a far country, He has not left us alone. As He promised, He has sent to us the Comforter, the only source of the true and heavenly love which alone can save us and those around us. And we commemorate today one who was filled to overflowing with this same Holy Spirit, the Holy Apostle John the Theologian. This simple fisherman enlightened all the ends of the earth with the grace which poured forth from his tongue and pen, and his life shone more brightly than any words with the truths we have spoken of today. Just as we must take into our own hands the salvation of our brother, so the Holy Apostle of Love today takes into his hands our own salvation. He who leaned upon the Lord's breast, he whom the Lord loved, is interceding for all of us sinners today before the throne of the Lord. And through his prayers we know that we are not forgotten before the face of God. We are not left alone, but are brought by his intercessions before the whole host of heaven and before the throne of Christ our True God, to Whom be honor and dominion, together with His Father Who is without Beginning and His Most-holy and Good and Life-creating Spirit, always, now and ever and unto the ages of ages. Amen.
---