Sermon for Thomas Sunday (2018)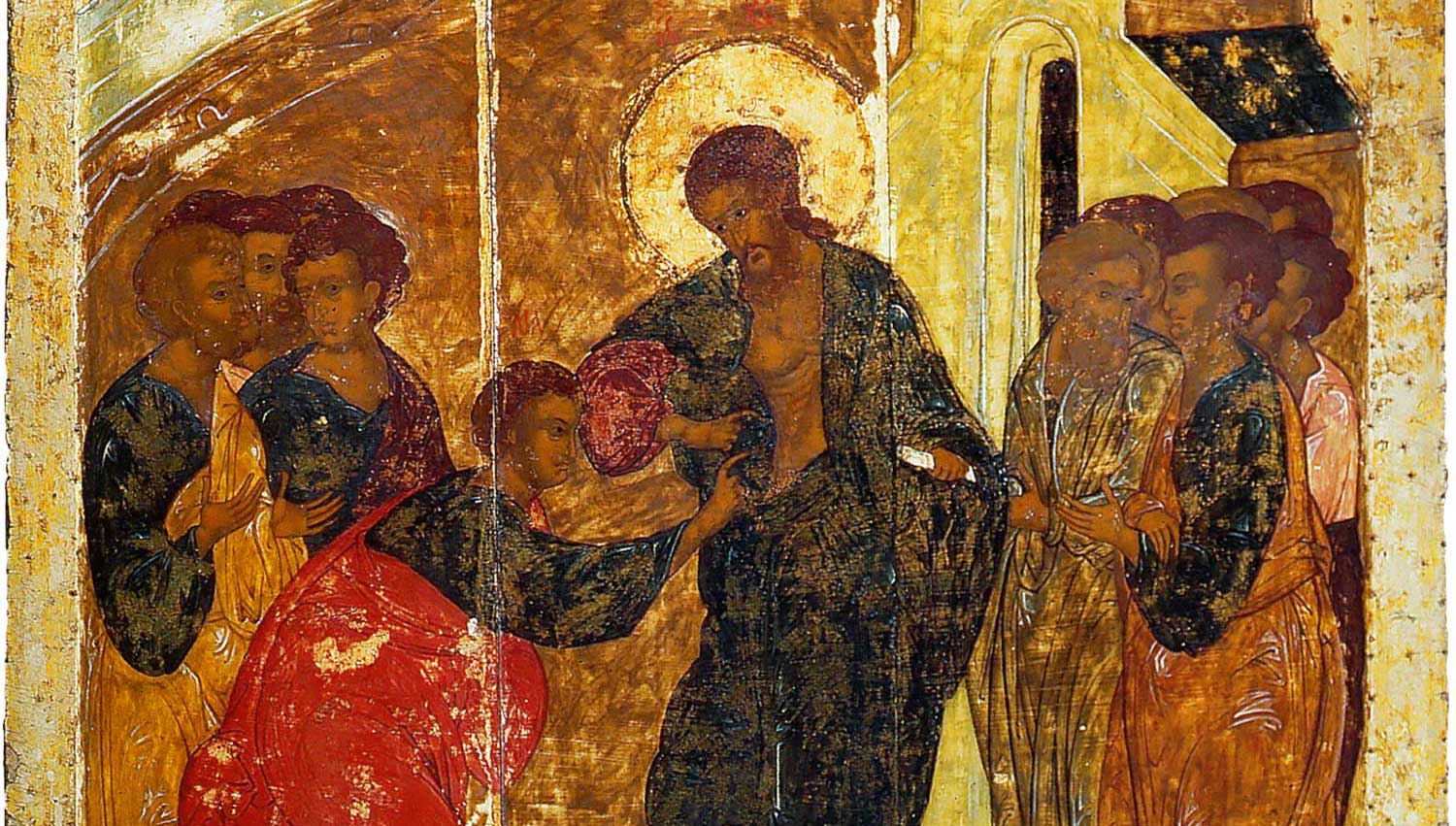 In the name of the Father, and of the Son, and of the Holy Spirit. Amen.
CHRIST IS RISEN!
Introduction
St. Isaac describes doubt as being caused by demons and therefore no amount of knowledge and swiftness of mind is enough to withstand these enemies of God and man who wish to drag each one of us into Hell, little by little.[1]
The Apostle Thomas and Christ
Today we are instructed about doubt through Thomas' example in the Gospel passage that was just read. Thomas is one of the twelve Apostles who had heard, was taught, struggled, and endured all things with the other Apostles. With the other Apostles, he also had the power to heal sicknesses and cast out devils (Mk. 3:15). When Jesus left for Judea after being informed that his friend Lazarus was dead, it was Thomas who said to the other disciples, "Let us also go, that we may die with him" (John 11:16ff) for the people of Judea had previously attempted to stone Christ.
When Christ says, "I am the way, the truth, and the life," it is in response to Thomas' question, "Lord, we know not whither thou goest; and how can we know the way?" (John 14:5).
In this intimate environment of Christ's Apostles is where Thomas lived and although they all had seen the dead raised, the leper's cleansed, and the blind given sight, still he doubted the words of his friends when they told him that Christ had risen from the dead.
The Gospel tells us that Thomas was not with the other disciples on the day when Christ rose from the dead and appeared to them. Therefore, when the disciples saw Thomas, they announced to him that they had seen the Lord Jesus Christ, risen from the dead. Thomas replies, saying, "Unless I see in His hands the print of the nails, and put my finger into the print of the nails, and put my hand into His side, I will not believe" (John 20:25).
Now it is eight days after Christ's resurrection, the disciples are gathered together in a room, and Christ appears to them all and then speaks directly to Thomas.
It is to Thomas that he says, "Reach hither thy finger, and behold my hands; and reach hither thy hand, and thrust it into my side: and be not faithless, but believing." And Thomas answered and said unto him, "My Lord and my God." Jesus saith unto him, "Thomas, because thou hast seen me, thou hast believed: blessed are they that have not seen, and yet have believed" (John 20:27-29).
Thomas' Doubt
What Christ addresses is Thomas' doubt, which is quite apparent to us all, but how He does this is what is of concern for us today.
Why did Thomas not believe? Instead of light, the announcement by the Apostles only brought darkness to Thomas. He who was willing to go and die with Christ, expected that Christ would come and find him if He had risen, St. Romanos remarks, and yet Christ didn't.[2]
Worthy of note, though, is that nowhere do we observe Christ rebuking or chastising Thomas because of his doubts. Instead, as it is said of our Saviour: "A bruised reed shall he not break, and smoking flax shall he not quench" (Matt. 12:20). Christ comes to Thomas to alleviate him of this poison of doubt, this spiritual obstacle, this stifling of the fullness of joy which Pascha should impart to each one of us. Narrating this moment between Thomas and Christ, St. Romanos writes: "Have compassion on me, Master, as I boldly handle [You], and accept me, Lover of mankind…"[3]
If Christ has come to save sinners, would He not comfort the doubters?
If He did not come to call the righteous, would He not alleviate those beset by this darkness?
If He came to the lost sheep of Israel, would He not seek out those bewildered by disbelief?
If He came to set the prisoners free, would he not unfetter us from the shackles that enslave us with suspicion and distrust?
If He came to heal the brokenhearted, would he not mend the skepticism which rends the heart?
If He came to give sight to the blind, will He not apply a healing salve to give clarity to the vision of our nous?
If He came to give liberty, will He not free those imprisoned by mistrust?
If Christ left the ninety and nine to seek out the one who was lost, will He not come find you who is lost and wandering in the darkness of doubtfulness?
Behold, the condescension of God, the Lover of mankind. You, Thomas, made of clay and of the fallen race of men. You reach your finger here and touch my hands,  the hands of Him who made man. Reach your hand here and touch my side. Touch him who is clothed with majesty[4], who covers Himself with light as with a garment (Ps. 104.2).
It is because of Thomas' doubt that we commemorate him today. For us who may be full of doubts, despite God's providence which has lead us here, despite the work of His saints intervening in our lives and even healing some of us, despite the spiritual rest we might experience at times in this holy habitation. Like Thomas abiding with the Apostles of Christ, we still doubt. Eight days ago we celebrated the Bright Resurrection of Christ with the festal Bright Week services up until now when we consider the topic of doubt.
Today, Christ comes to Thomas and comes to us baring his wounds to heal our unbelieving hearts. Blessed are you when doubts assail you and all is looking dark even though you have not seen Christ, but yet you believed (Cf. John 20:29). "Lord, I believe; help thou mine unbelief" (Mark 9:24). As St. Leo the Great writes:
[Christ] offers to the doubters' eyes the marks of the cross that remained in His hands and feet and invites them to handle him with careful scrutiny. He does this because the traces of the nails and spear had been retained to heal the wounds of unbelieving hearts, so that not with wavering faith but with the most certain conviction they might comprehend that the nature that had been lain in the sepulcher was to sit on God the Father's throne.[5]
"Thomas' unbelief," says St. Gregory the Great, "was of more advantage to our faith than the faith of believing disciples, because when he was led back to faith by touching Jesus, our minds were relieved of all doubt and made firm in faith."[6]
Questions
I) Why did Christ wait eight days? From our own experience, do we not understand this? We are not quickly relieved of most burdens with such speed and instead are waiting for an indefinite period of time, waiting on the Lord to help us in His good time. It was the same for the Apostle Thomas who continued to dwell with the other disciples, hear stories of the risen Christ and thereby prepare himself to finally see Christ as we should also amidst these unsettling times. Therein is patience nurtured in us and therein we learn how God works in our own lives seeing how He responds to us. We are taught that this Christian path is that narrow path, that we will have a cross to bear, we should not be surprised by this despite being surprised by how difficult it is at And yet, as the Apostle Paul tells us,
For our light affliction, which is but for a moment, worketh for us a far more exceeding and eternal weight of glory; While we look not at the things which are seen, but at the things which are not seen: for the things which are seen are temporal; but the things which are not seen are eternal (2 Cor. 4:17-18)
As Christ came to Thomas while he was amidst the other Apostles keeping fellowship with them, so Christ will seek us out.
II) What are we supposed to do amidst these times of doubt?
i) Confess these thoughts to our spiritual father. Why leave this snake in our bosom which will only harm us. There is no way that this can turn out for the best when we keep this to ourselves.
ii) pray – because where else are we to go to be consoled and to find shelter amidst this storm?
iii) Love – for when we learn to love God, we shall not grieve at the present troubles but, as St. John Chrysostom said, we will not even appear to see them because of the strength of such a thing as this love. He further describes this saying,
Those, for instance, who are not at present with us, but being absent we imagine every day, are loved. For mighty is the sovereignty of love (αγάπης), it alienates the soul from all things, and chains to the desired object. If thus we love Christ, all things here will seem to be a shadow, an image, a dream. We too shall say, "Who shall separate us from the love of Christ? Shall tribulation or distress?" (Rom. 8:35)[7]
iii) And lastly, humility. Returning to the first mention St. Isaac, we recall that he designates doubt as being the tool of the demons. In describing doubt in the hour in which it is the most paralyzing and darkest, St. Isaac writes: "All your knowledge will be in turmoil like that of a child. And your mind which was firmly established in God, the accuracy of your knowledge, and your sound thinking will be immersed in an ocean of doubts."[8] The only thing to vanquish these doubts is humility, which, he says, as soon as you take hold of it, all the power of the demons vanish.[9]
Conclusion
We can never avoid doubts whether their cause is intellectual, physical, relational or through some other means. And yet, Christ has not abandoned us and even seeks us out to assuage our doubt and the sorrow it causes. May we bear this burden with humility like our Saviour who is meek and lowly of heart, (Matt. 11:29) for those who are humble are given grace by God and shall be exalted and lifted up and will find rest for their souls. [10]
If we are humble, Christ will seek us out, will come to us, and alleviate us of our doubts as he did for the Apostle Thomas, in that very particular way in which the Apostle needed and in the way that each of us need.
Through the prayers of the Apostle Thomas, O Lord Jesus Christ our God, have mercy on us. Amen.
CHRIST IS RISEN!
---
[1] "Homily Fifty-Seven" in The Ascetical Homilies of Saint Isaac the Syrian. (Brookline: Holy Transfiguration Monastery, 1984), 284.
[2] "On the Apostle Thomas" in On the Life of Christ: Chanted Sermons by the Great Sixth-Century Poet and Singer. trans. Archim. Ephrem Lash. (San Francisco: HarperCollins, 1995), 186.
[3] Ibid., 183.
[4] Saturday evening, Prokeimenon for Great Vespers, 6th Tone.
[5] Ancient Christian Commentary on Scripture (Illinois: Intervarsity Press, 2007) IVb, 358ff.
[6] Forty Gospel Homilies trans. Dom David Hurst. (Kalamazoo: Cistercian Publications, 1990), 207.
[7] "Homilies on St. John" in NPNF, 1st Series, ed. Philip Schaff. (Hendrickson: Peabody 1999, 14:329ff-330f.
[8] "Homily Fifty-Seven," 284.
[9] Ibid.
[10] Cf. Matt. 23:12; James 4:6, 10; 1 Peter 5:5
---