The Triumph of Perseverance - A Sermon for the Sunday of Orthodoxy (2023)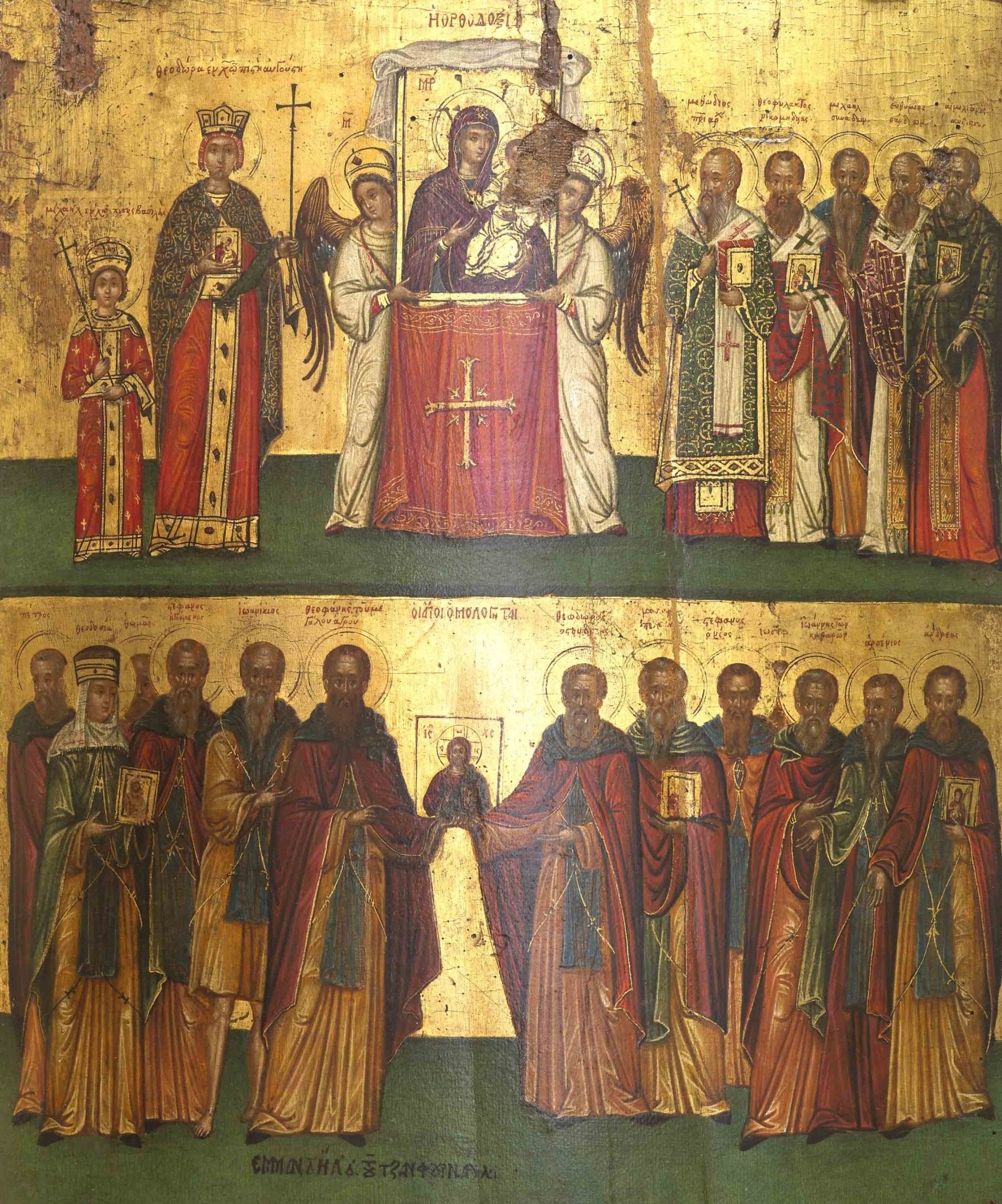 Today the Church celebrates the Triumph of Orthodoxy, where she commemorates the restoration of icons and their veneration in the churches. This feast is not merely some historical remembrance. Rather, the Church is teaching us about the centrality of icons in our worship and theology. God Himself is the first iconographer, and Christ Himself is the image—icon, of His Father. In the beginning, God made us in His image and likeness. And ultimately, images will dominate our life. Either we will be conformed to the images the world presents to us about what it means to be human—images disfigured by sin and defaced by a carnal mindset, or we will be conformed to image of God's Son.      
We have finished the first week of the fast, and we see the same sins and passions we've struggled with before coming around again. Some never left us; others were lying dormant. Where is our triumph? Today the Church teaches us the virtue of patience.  The Triumph of Orthodoxy was long in coming. This battle against iconoclasm was waged for over a century. Many Christians were tortured and exiled and martyred for venerating the holy icons and keeping the tradition of the Fathers. Not only that, but many did not live to see the triumph of Orthodoxy in their lifetime. They died seeing the Church in turmoil. But it is in this apparent inability to see the truth vindicated that we can in fact find comfort today. The Church encourages her faithful to continue their struggles, even if we do not see them crowned with victory. Because it is in our patient perseverance of our struggles that God will remake us in His image and that we will see the feast the Church celebrates today in our own life.  
Today's epistle reading reminds of the faithfulness of God's people before the advent of Christ. This faithfulness to God can very well mean defeat in the world's eyes:
And others had trial of cruel mockings and scourgings, yea, moreover of bonds and imprisonment: They were stoned, they were sawn asunder, were tempted, were slain with the sword: they wandered about in sheepskins and goatskins; being destitute, afflicted, tormented (Hebrews 13:36-37).
Perseverance can be an unnoticed, and certainly unglamorous virtue.  Fasting is obvious—we can show off our sparse plates, complain (jokingly, of course!) about the drastic change in diet. Mercifulness can be obvious. But what does it mean to persevere in crucifying our old man? How long can we wait on the cross when there's no sign of being taken down, let alone of resurrection?
A large part of perseverance is the hard work of doing God's commandments. The longer services in church, more prostrations, stricter fasting, and greater attention to almsgiving are not struggles instead of what preoccupied us last week, but in addition to. As many of us are trying to make up for all the work we couldn't do this last week, we can feel weighed down. Another one of the difficulties we come across in our spiritual struggle is when we don't see a correlation between our efforts and any victory.
We struggle with anger against our brothers, and so we bring to God our prayers and prostrations, asking Him to help us. And yet, the next day we still talk back to them, we still refuse to help. And again we go to God in prayers, this time perhaps with a softer heart. But still, no success. For others, it might be struggling with lustful thoughts, pride, envy, anxiety. And the same thing occurs. We pray about it, or we try to fast more, or cultivate the opposing virtue. Still, no success.
St. Paul tells us in Romans that: "We glory in tribulations also: knowing that tribulation worketh patience; And patience, experience; and experience, hope: And hope maketh not ashamed. (Romans 5:3-5).  We learn patience and perseverance by the crosses that God has given us, in our illnesses: chronic, mental, physical; in the difficult circumstances we find ourselves in, obediences or jobs that we are not successful in, in our struggle with our passions. The tribulations that we find ourselves in our not bad things—St. John Chrysostom is quick to remind us that only sin is evil. Rather, tribulations can be the raw material for the cultivation of patience and perseverance.
Perseverance is not just waiting. Waiting and thinking. Waiting anxiously. Waiting and despairing. It is not biding time until the problem (or worse, the person) goes away. Perseverance is a positive action. It is turning away from ourselves and our problems and our failures and looking toward Christ. 
God does not ask us to be successful.  He asks us to be faithful. By praying when it doesn't seem to work; by doing prostrations for those who cause us grief when it seems maybe we're getting worse; by getting up every morning and going to Church even when we know our minds are just going to race through all our anxieties the entire two or three hours—these are our acts of perseverance. Not to see our struggle vindicated with crowns of victory but to continue anyway is an act of hope. It means that despite not seeing or experiencing anything, we believe that God is watching us and that He is helping us. Because that is what our actions declare we believe, even if that's not what we think. Even if our thoughts tell us this is all a sham. God is interested in our actions, not what our passing thoughts happen to say about our failures.
The Elders of Optina teach us that a lot of times God does not grant us victory in the spiritual life because our humility over our failures is more precious to Him than any small virtue we might be able to gain. Because in humility we are looking at Christ, and that is what God wants, and that is the actual goal of all our perseverance. I'm not denying that it isn't discouraging to experience repeated falls in the spiritual life nor the difficulty in shaking off the feeling of absurdity that can sink in when none of our efforts seem to make any difference.  Rather, our thoughts should not be on ourselves. We bring our sins and our failures to our spiritual father in confession and leave them there. If he's concerned about what we are or are not doing, he will let us know.
We are reminded every day at 3rd Hour that "Mine eyes are ever towards the Lord, for He it is that will draw my feet out of the snare". The Psalmist did not say "Mine eyes are ever on the snare, wondering how I fell into it again". Nor did he say, "Mine eyes are ever on my legs, distraught at all the blood that's flowing out, wondering if I will ever be able to walk again." Rather, his eyes are on the Lord, who will save him. It is by looking at Christ that we, too, will be delivered. He is the one that gives us victories over sin. He is the one who removes our passions from us. He is the one who refashions His image in us, and is doing this now, even if we are not aware of it. Saint Sophrony teaches us that the first action of the Uncreated Light on believers is to show them their sins. If all we see this Lent is our sins and our failures, and in finer detail, or sins we didn't see before, than at least we know that God is with us, illumining our darkness. And if He is showing us our sins, it means He wants to heal us of them, and through our perseverance, He will.
God asks of us to be faithful in following Him. But He does not promise us that we will see the victory in this life. But we are called to look toward Christ. And we do this in a physical sense when we venerate His image in Church-beholding His serene face, knowing that He is looking back with infinite mercy and compassion. We look toward Christ when we read and listen to the Gospel and are reminded of Who He is—He is the one who heals us from our sores, He is the one who cleanses the leprosy from our souls, He is the one who is crucified for us, He is the one goes to Hell for us—He is the one who raises us up from death. We look toward Christ when we follow the path He has laid out for us, even if we stumble, even if some times we get lost. We look toward Christ when we serve our brothers and sisters, when we forgive them, when we ask to be forgiven. We look toward Christ when we struggle to pay attention in prayer, even if we fail most of the time. Our whole life of repentance means looking toward Christ.
Brothers and Sisters, let us take heart in the feast the Church presents us today. She has taught us to persevere for the truth, even when we don't see the final victory. Today the Church celebrates the restoration of the Holy Images in the churches. But the final triumph of Orthodoxy will be on that day when Christ, the pre-eternal image of the Father, comes in all His glory and makes manifest the final restoration of His image in all the faithful. As St. John writes in his epistle, "Beloved, now are we the sons of God, and it doth not yet appear what we shall be: but we know that, when he shall appear, we shall be like him; for we shall see him as he is" (1 John 3:2).  May God grant that we celebrate this final triumph with Him and all His saints. Amen.
---